September 2022 Updates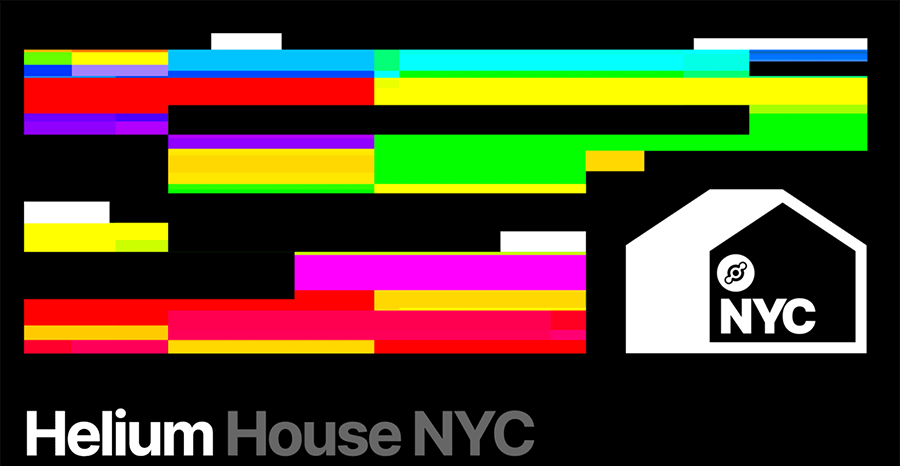 Hotspotty at Helium House
The Helium community descended upon New York City last week for the latest installment of Helium House. The industry's usual suspects along with some new faces came together at the Altman Building in Midtown Manhattan on Tuesday, September 20th.
It was inspiring to see all of the recent projects and innovations around IoT solutions built over Helium's LoRa network. The industry's big makers were there, such as Seeed, RAK, Mosolabs, as well as their distributors and deployers.
In addition to the networking and dealmaking on the floor, there was also a day of panels that brought together industry thought leaders to trade stories, share insights, and give the community a better glimpse into where things are headed.
This included Hotspotty's own Co-Founder and CTO Daniel Spillere speaking together with RAKwireless' Jose Marcelino, and Nova Labs' COO Frank Mong, about the journey from no hotspots to 1 million.
Daniel spoke about Hotspotty's humble journey from an antenna installation service around Lisbon in 2020 to its shift to all-purpose fleet management and network orchestration platform propelling the growth of Helium and DeWi at large.
---
HIP 70 - Moving to Solana
The vote to move Helium's Layer 1 to Solana, aka HIP70, was also a major topic of discussion. Solana's Co-founder Anatoly Yakovenko chatted with Nova Labs Co-founder Amir Haleem about the benefits of leveraging Solana's L1 for optimizing and scaling the Helium ecosystem.
While there were many interesting panels and much to be excited about, there was one announcement that overshadowed everything else - the announcement of Helium Mobile!
Still a bit early to say, but in a nutshell, it's Helium officially establishing a partnership with T-Mobile in the US. Soon cell phone users will be able to sign up to Helium as a 5G service provider, aka its own MVNO. Coverage will be achieved by roaming onto T-Mobile's network when necessary, effectively creating the world's first 'crypto carrier'.
This is a big moment for DeWi. Not only does it mark the first time TradWi and DeWi have formally partnered, but even more importantly, it finally brings some credibility to DeWi in response to the oft-cited critique "But, where's the use case?", or "What about demand?" Helium Mobile is set to launch in Q1 2023, so keep your eyes peeled. If you're interested in getting on the waitlist, click here.
This was the biggest Helium House yet and we look forward to seeing how things develop, as the DeWi ecosystem clearly shifts its sights from LoRA to 5G. Strap in, because it looks like the next 2 quarters will be a heck of a ride!
---
TIPIN 2022

Helium House wasn't the only game in town last week. Since Messari's Mainnet event and the Crypto Digital Assets Summit were both happening in parallel last week in NYC, it made sense that DeWi events would pop up alongside them. The day immediately following Helium House showcased one such event; this time going beyond the Helium protocol to bridge the entire DeWi ecosystem. TI-PIN stands for Token Incentivized Physical Infrastructure Networks, and is a new term used to encompass any project using communities to build out physical use cases incentivized through blockchain mining technologies; the first and most noteworthy example of a TI-PIN being Helium.
A short trip across New York's East River to Brooklyn brought the greater TI-PIN community together for an afternoon of talks, drinks, and networking. The event featured interesting insights from various TI-PIN business models including automotive and mapping companies (HiveMapper and DiMo), the announcement of exciting new projects around electricity grid stabilization, and the industry's OG use case - decentralized telecom networks, via representatives from both Helium and challenger Pollen.
The event was put together by Lattice Fund, a web3 focused venture capital fund focused on the TI-PIN space.
Once again, Hotspotty's Daniel Spillere got up to give the TL-DR version of Hotspotty's origin story.
---
Pollen / BLiNQ Launch Party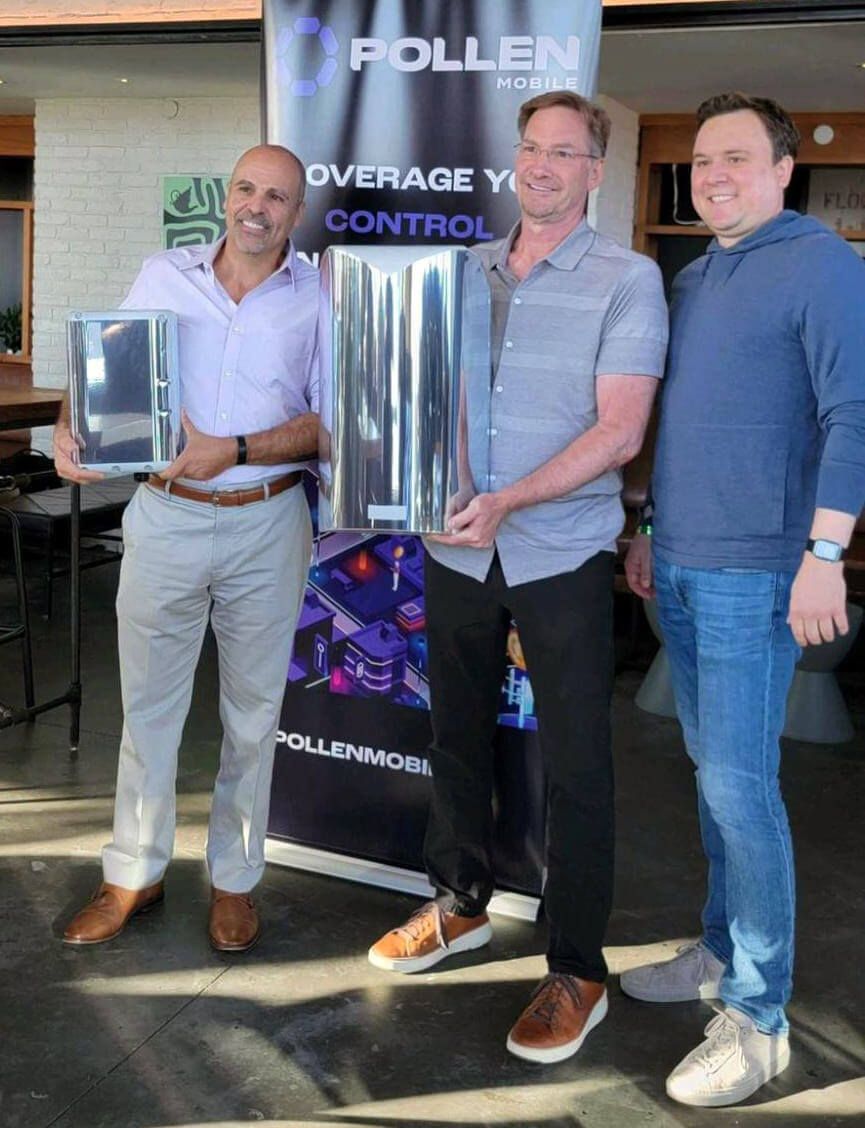 Speaking of not being the only game in town, Helium is no longer the only path towards realizing decentralized 5G. Pollen is the newest entrant, led by former VP of Engineering Anthony Levandowski, co-founder of Google's self-driving car program Waymo, who hasn't left much room for speculation in stating his vision -to build the data network required to make autonomous vehicles a reality. This journey conceived Pollen, when the privatized protocol was opened up to the world to utilize for the creation of a privacy-conscious, decentralized 5G network.
Pollen has taken a more market-driven approach to their 5G deployment model that employs 'flowers', aka small cells, and a network of crowdsourced mappers that utilize special devices and phone apps ('bumblebees' and 'hummingbirds') to validate 5G coverage.
Pollen threw a party in lower Manhattan's trendy Mr. Purple rooftop bar last Thursday, September 22nd. Besides some cool merch, an open bar, and quality networking, the big reveal was announcing their formal maker partnership with BLiNQ Networks. BLiNQ is a manufacturer of telecom radio technology and will be supplying Pollen its new FW-300i, known as the 'Sunflower' as well as the x-300i base station, known as the 'Stargazer Lily'.
---
MNTD. X Hotspotty -  Partnership Announcement
Live Diagnostic Integration with RAK Hotspots is available now!
A couple of months ago there was a big update on the Helium Network, where all the hotspots became light hotspots and no longer carry the whole Helium blockchain within the device, making a device much lighter in terms of storage usage, using less bandwidth, and diminishing sync problems with the blockchain.
This is really great for the Helium network and for the growth of the project. However, there's one problem that came along with this update:  There is no more information about the hotspots on the blockchain.
How is this partnership going to help you? In order to provide this missing information again to users, Hotspotty partnered with RAK/MNTD. and through API integration, Hotspotty App can show these diagnostics in real-time.
If you have a RAK/MNTD. hotspot you can verify the following info remotely:
💻SD card status
📡LoRa activity
🌡️CPU temperature
🔗Connection to validators
📶Internet connection health.
📱MAC ethernet and wifi information (only for verified wallets)
🌐And more…
---
Onboard MNTD. hotspots through Hotspotty Connect
and earn a $10 coupon to use in Hotspotty

Hotspotty Connect was created to be the ONE mobile app that Helium Hotspot owners can use to onboard their devices to the network and to their wallets.
Much more than onboarding hotspots, our App also has exclusive features to help you manage your fleet.
Message hotspot owners: Connect with hotspot owners to optimize network coverage in your area or simply meet like-minded
Link multiple wallets: Link to your unique or multiple Helium Wallet to get started.
Wallet Analytics Dashboard: Ability to see all transactions: Rewards, payments, hotspots & validators, and burn transactions.
Change hotspot WI-FI: Ability to scan and change the hotspot WI-FI.
Download our App today and enjoy all benefits: Android & iOS
---
5G Host/Installer Survey
Excited about DeWi's entrance into 5G? Want to be part of it?
Tired of bad coverage in your neighborhood or work place? Want to fix it?
Let us know!
We're conducting some research to look at new ways to serve the greater DeWi community's involvement in 5G.
Please take a moment to leave us some feedback in one of the two surveys below. Choose one based on if you are:
-Experienced hotspot installer
-A host interested in hiring professional installers for your deployments
See you guys next time!! ;)